Out of this world.
In an out-of-this world campaign to promote the new Zinger in the U.S, we launched the world-famous crispy spicy chicken sandwich into space together with Wieden+Kennedy and WorldView. As the Zinger 01 rose to new heights in a custom built robotic bucket satellite, earthbound civilizations could watch the live broadcast of this giant leap for chicken sandwiches on kfcin.space and Facebook.
To new heights.
During the lead up and down time, earthlings stayed in contact through discussions on an interactive timeline, live data feeds, a scientifically detailed view of the Zinger sandwich along with an fully interactive WebGL rocket with selfie stick, a flag waving arm extension and a recording of the colonel on a gold cassette tape over earth.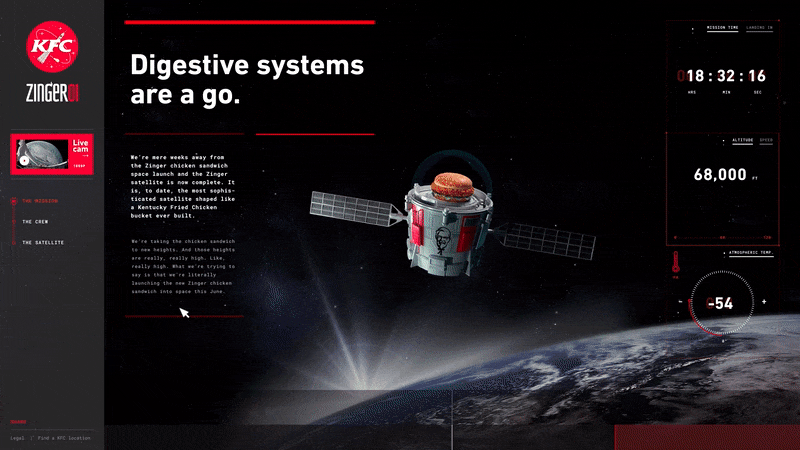 The Zinger has landed.
Seventeen hours after the Zinger01 sailed to the edge of space in an experimental strato-craft, the Zinger chicken sandwich safely returned it's rightful place: Earth. During its journey to space, the Zinger reached a peak altitude of 67,143 feet and witnessed what many can only dream of..
Made possible by the following:
Agency: MediaMonks
Creative Director: Gradwell Sears
Senior Designer: Damian Lettiero
Frontend: Ricco Arntz
Producer: Alfredo Rivera
and many more Monks!